For your holiday in the Basque Country , enjoy the comfort and simplicity of a mobile home to spend a pleasant stay. Campsites in the Basque Country offer various rentals that can accommodate couples looking for tranquility such as large families or groups of friends for unforgettable camping holidays.
The mobile home is a spacious accommodation for the whole family. In the Basque Country you will find recent mobile homes of one to two rooms or even three rooms for large families and groups of friends, equipped with a living room, a kitchen, a bathroom with shower and washbasin And a WC. To share a moment with friends or relax in the shade, some mobile homes have a terrace with garden furniture. For young parents, some campsites offer mobile homes with a place designed to install the crib.
Rent a mobile home at the campsite Dorrondeguy in Hendaye
Close to the ocean, the mountains and Spain, Camping Dorrondeguy invites you to discover Hendaye and its surroundings in a warm atmosphere. At the edge of the ocean but also at the foot of the mountains, exceptional sites are offered to you for the practice of numerous activities. The camping Dorrondeguy offers the mobile home rental in Hendaye , 2 and 3 bedroom chalets, all comfort. All rental units are equipped with television and some dishwasher. For your comfort, mobile homes and chalets are equipped with flat screen TV, a coffee machine, a garden furniture and an umbrella. The accommodation units also have all the necessary kitchen facilities to prepare your meals. As a hygienic measure, disposable pillows are placed on the bedding and on the pillows before your arrival. For beds, only duvets are provided. It is therefore necessary to bring your sheets and pillowcases.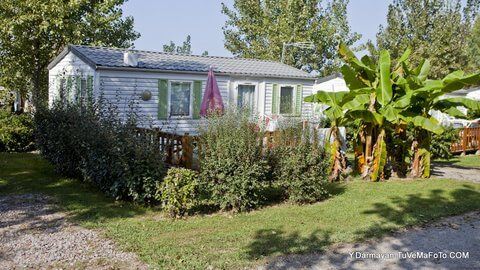 Quality accommodation at Untxin campsite in Socoa
At the gates of Socoa, near the Basque mountains, at the entrance of Spain, camping Untxin welcomes you in a peaceful and family. This family campsite in Basque offers comfortable mobile home rentals. The mobile homes of the campsite Untxin are aged 0 to 7 years, with an average area of 24, 28 and 32 m2. Inside, you will find a room with a large bed and another with two small beds. There is a living room with a convertible sofa bed, a TV and a fully equipped kitchen with a fridge, a hob, a microwave, a dishwasher, an electric coffee-maker … The mobil-homes at the campsite Untxin, A room of bath and an independent TOILET. Outside, there is a terrace with garden furniture and barbecue.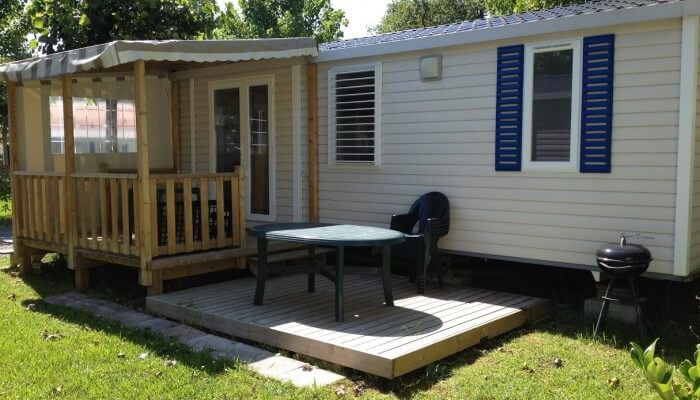 Mobile homes for rent in Ascarat at camping La Truite
Small family campsite located in the heart of the Basque Country, on the banks of the Nive, 4 kms from Saint Jean Pied de Port and only 45 minutes from the beaches of the Basque coast, welcomes you at the foot of the famous Basque vineyard Irouléguy, medalist At the Salon de Paris. This 3-star campsite welcomes you in a warm and family atmosphere, in a green and countryside setting facing the mountains for a pleasant stay. On a plot of 2.5 ha, you will enjoy vast pitches of 150m ² minimum, flat and semi-shaded. In terms of accommodation, La Truite offers the mobile home rental for 4 to 6 people with two bedrooms, a fully equipped kitchen , A bathroom, an independent WC, a living room and a terrace with living room of garden and barbecue. The interior layout may vary from one model to another.
Looking for a second home in Pays Basque? The campsite La Truite proposes you the new RAPIDHOME, IRM, OHARA ranges with a choice of mobil-homes and chalets with an interior and exterior design that is particularly neat and personalized.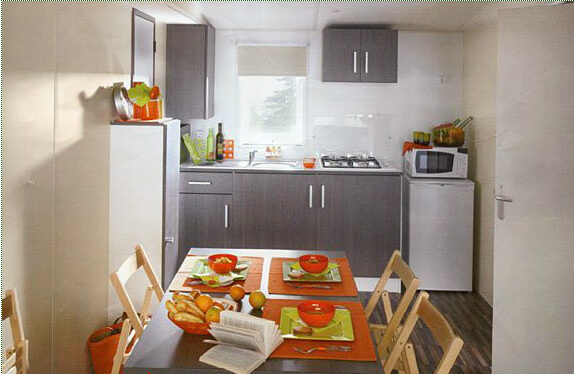 Mobil-homes for rent at the campsite Uhaitza in Mauléon
Located in the heart of the Basque Country in an exceptional and preserved nature, Camping Uhaitza offers you the best welcome and quality services in a family atmosphere. This 3 star campsite welcomes you on the banks of the river and at the foot of the mountain, in winter as in summer, in very comfortable rentals. You will find a true framework of serenity where nature is preserved. Uhaitza offers mobil-homes for rent 4 places, functional, very comfortable and fully equipped. Inside, there are two bedrooms, a dining room with a table, 4 chairs, a sofa and an optional TV, a kitchen equipped with stainless steel sink, hob, refrigerator, microwave, Minute coffee maker, crockery for 4 persons and kitchen utensils. Sanitary side, there is a bathroom with a washbasin, a shower and a separate toilet. Outside, you have an outdoor terrace with a garden furniture, parasol and barbecue.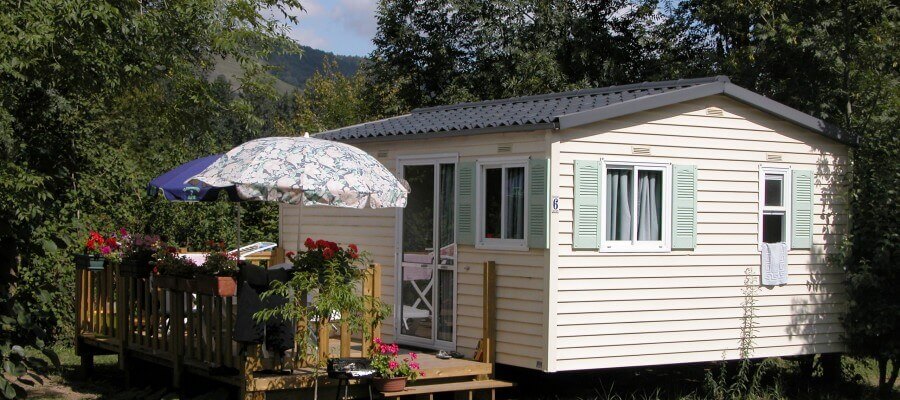 Discover the rental of camping Bixta Eder in Cambo
The Bixta Eder campsite is a 3 star campsite located in Cambo Les Bains in the Pyrénées Atlantiques, Aquitaine. Whether for a week or for a weekend, you will spend a holiday in a peaceful atmosphere and a green environment. For your stay in Cambo Les Bains, Bixta Eder offers 22 rentals in the spa and tourist resort of the Basque Country, between sea and mountain, 20 minutes from the waves of the Atlantic and its seaside resorts like Anglet, Biarritz, and Saint-Jean-de-Luz, but also very close to Bayonne, Spain and the typical villages of the Basque country such as Espelette, Ainhoa ​​or Saint Jean Pied de Port. All mobile homes for hire at the Bixta Eder campsite are recent and comfortable. Dogs are accepted in the rentals with supplement. All the rooms have a bedroom, a lounge / dining area, a bathroom with shower and washbasin, a separate toilet and a terrace with garden furniture. It also offers a hire of sheets for single use.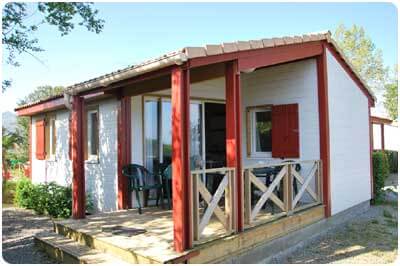 Mobile home rental in Sare La Petite Rhune
La Petite Rhune is a family holiday complex located between the sea and the mountains, 1 km from the village of Sare, one of the most beautiful villages in France, which can be reached on foot by an authentic Roman road. On Sare, in the Lehenbiscai district, camping La Petite Rhune is a typical 3-star campsite, in the heart of the Basque Country, in a quiet and shady setting with views of the mountains and Rhune. Of the 39 pitches on the campsite, you will find 15 mobile homes for rent . They are available for rent weekly, fortnightly or weekend, except in July and August, and this throughout the year. They can accommodate 4 people each. They are all equipped with electric heating, a very functional and welcoming kitchen corner and a terrace inviting you to a moment of meditation facing the mountain.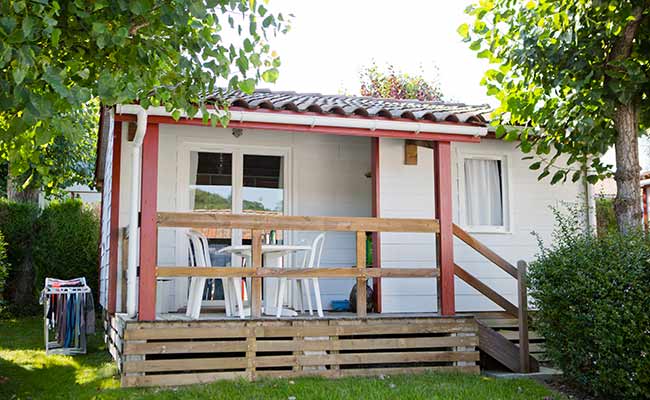 Rent a mobile home in Saint-Jean-de-Luz at the campsite Merko Lacarra
In a preserved natural setting, camping Marko Lacarra is a small and welcoming family structure of 3 stars where you will finally enjoy a holiday on the Basque coast and enjoy the good ocean air at 50 m from the beach on the coastal path Bidart-Hendaye. You will be seduced by the vegetable garden of Aïtatxi, the garden of aromatic plants of Amatxi, and the beautiful grassy sites without forgetting The mobil-homes to rent well spaced in a splendid environment facing the beach of Mayarco. The campsite has mobile homes comfortable and not overlooked, accommodating up to six people. You can choose among the three formulas proposed, namely: the mobile home type 1, with an area of ​​27.5 m², can accommodate up to 4 people and has two separate bedrooms and an uncovered terrace; The mobile home type 2, with an area of ​​25 m², equipped with a raised and covered terrace of 9m², with a capacity of 4 people, equipped with two separate bedrooms; The mobil home 6 people, with an area of ​​32m ², having 3 separate rooms and an uncovered terrace with a view on sea or mountain. All the hirings of mobile homes are equipped with a bathroom, a toilet, a kitchen, a television, a parking …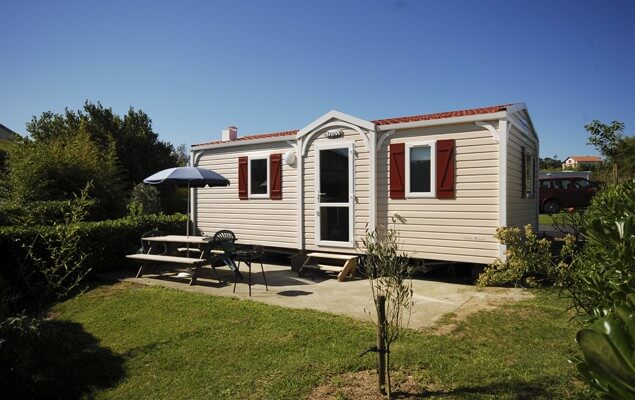 Rental of comfort at camping Etche Zahar in Urt
Campsite of charm Pays Basque "labellisé" Tourism and handicap ", camping Etche Zahar is a small quiet campsite, nestled in a landscaped quality, between wood and corn. Open from early March to mid November, this campsite 3 stars Welcomes you in the Basque Country, 500 meters from the center of the village overlooking the River Adour, 30 minutes from the beaches of the Landes and Basques, and has chalets including 2 handicapped accessible, mobile homes, furnished tents and safari tents. Can rent rent a mobile home for up to six people, equipped with quality bedding, sitting / dining area Dining room, kitchen, bathroom with shower, washbasin, WC, and a wooden deck.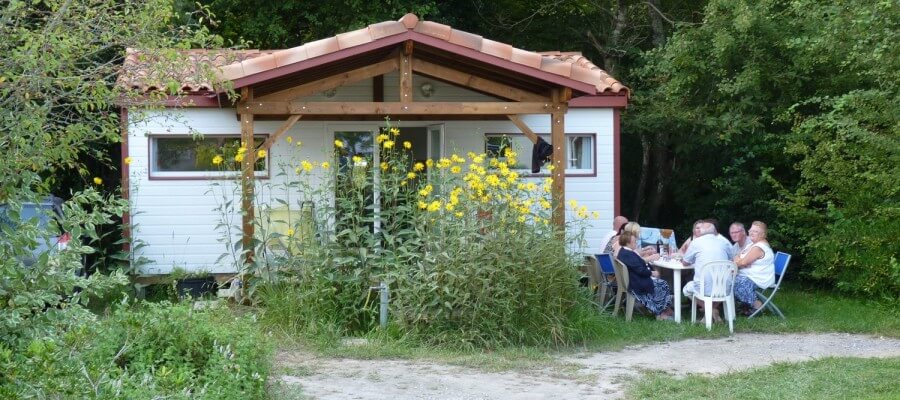 The campsite Les Deux Jumeaux rents you mobile homes in Hendaye
The campsite Les Deux Jumeaux welcomes you in Hendaye for your holidays in the Basque Coast in a rental park composed of Chalets Basques and Mobil-Homes any comfort. Located 300 meters from the large beach of Hendaye, the campsite Les Deux Jumeaux is a warm and family place, nestled in a verdant setting, between the sea and the mountains. For your holiday rentals in the Basque Country, the campsite puts at your disposal various types of rentals such as mobile homes, chalets and basque chalets. The mobil-homes for hire that he proposes have all the comfort necessary for the smooth running of your holidays in Hendaye. It offers mobile homes for up to 6 people, with maximum comfort and a certain refinement. You will be seduced by their functional character.